exhitibions
2019/2020






About
Tactics of erasue can be used to uphold systems of oppression and colonization, but can also be counterpoints—artists can turn a subtractive act into an additive one, poke holes in the colonizer's language and logic, and queer temporal spaces and histories. Otherwise Obscured: Erasure in Body and Text examines relationships between the erasure of text through redaction and illegibility and the erasure of bodies through policy, norms, and violence. The exhibition's title riffs from a definition in poet Ángel García's 2019 essay Lesons on Erasure, which considers the poetic consequences of erasure.

The group of intergeneratinal artists presented engage with a range of source material—including government legislation, museum catalogs, and archival photography—to create work in video, audio, performance, poetry, and other media. The works in the show blur distinctions between obscuring and revealing, showing how acts of erasure can subvert notions of authority.


Exhibiting Artists
Phil America, Peter Baldes, Bahar Behbahani, Hannah Black, Jesse Chun, Noelle de la Paz, Joey De Jesus, Alex Dolores Salerno, Francisco Eraso, Jr., Noah Fox, Harmony Hammond, Jenny Holzer, Tony Lewis, Guadalupe Maravilla, Ana Mendieta, Oscar Muñoz, Niina Pollari, Pope.L, Wendy Red Star, and Jennif(f)er Tamayo

Press
︎Hyperallergic, "Artists Find Power In Erasure," Cassie Packard, January 2020
︎Brooklyn Rail, "Otherwise Obscured: Erasure in Body and Text," Review by John Cappetta, January 2020




2020/2021
We turn
June 18 - July 17, 2021
EFA Project Space
New York, New York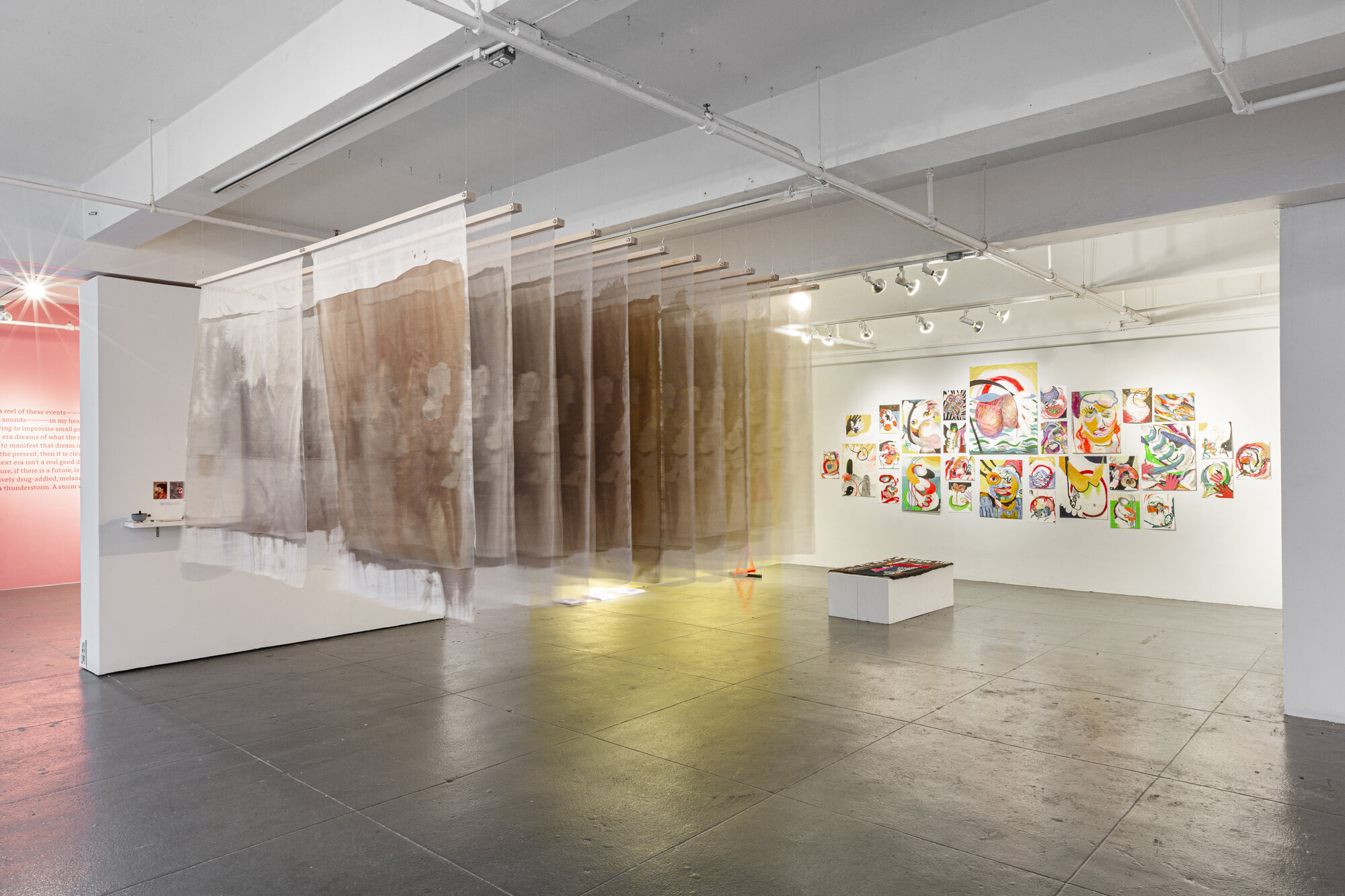 About:
To turn is to change position, to gain or lose a vantage point, to enter a new circumstance. In this exhibition, the artists of the 2020-2021 EFA SHIFT Residency consider many kinds of turns and many kinds of "we." Through a range of material and forms—including video, collage, ceramic, photography, installation, and painting—the work presented conjures the "we" of specific communities and collective efforts, many made tenuous under pandemic circumstances. Indeed, an underlying "we" is the residency itself and the circumstances in which these artists and art workers inhabited studios and homes, and built relationships with each other.

These artists negotiate the role of the individual, the archive, and of documentation through tactics of tactility, narrative, and abstraction. In doing so, they conjure larger histories of labor, colonialism, and environment, and consider alternatives to representation, binaries, and disclosure. The presentation of this exhibition is in part a consideration of the consequences of materiality, objectness, and touch after a year of the forced virtual. As pandemic, protest, and loss continue, what do we turn towards or away from? Who do we turn to for care? Where do we turn for community? While not all of the work in this exhibition is a direct address to the current context, the broader questions posed by it remain urgent.


Exhibiting Artists
Ezra Benus, Barrie Cline, Anaïs Duplan, Clarinda Mac Low, Isaac Pool, Jeannette Rodríguez Píneda, Stephen Sewell, Río Sofia, Margaret Rose Vendryes

> Catalog
support structures
December 2020 - February 2021
8th Floor Gallery (Virtual)

About:
Envisioning sustainable lives involves many kinds of support structures—physical and digital, social and emotional. These bolster the foundations upon which we build, nourish, and grow in our lives. Interdependency can become a site of creation, while also enabling individuals to support themselves and each other with responsibility and care. These gestures, often political, are central to Disability Justice, aesthetics, and community.

In this virtual exhibition, the artists in Art Beyond Sight's Art and Disability Residency consider how the presence, absence, and maintenance of support structures are catalysts for their practices. Using a range of media and disciplines, the work in the show interprets the many meanings of support and structure, interrogating representation, language, and form. Originally conceived as an in-person exhibition at The 8th Floor gallery, due to the pandemic, support structures is now presented as an active website, with new and adapted work by the cohort.

Exhibiting Artists: Lizzy De Vita, Michael DiFeo, Zoey Hart, Terry Huber, Alex Dolores Salerno, michelle miles, ee miller, and Sandra Wazaz.

Press:
>Hyperallergic: Your Concise New York Art Guide for December 2020